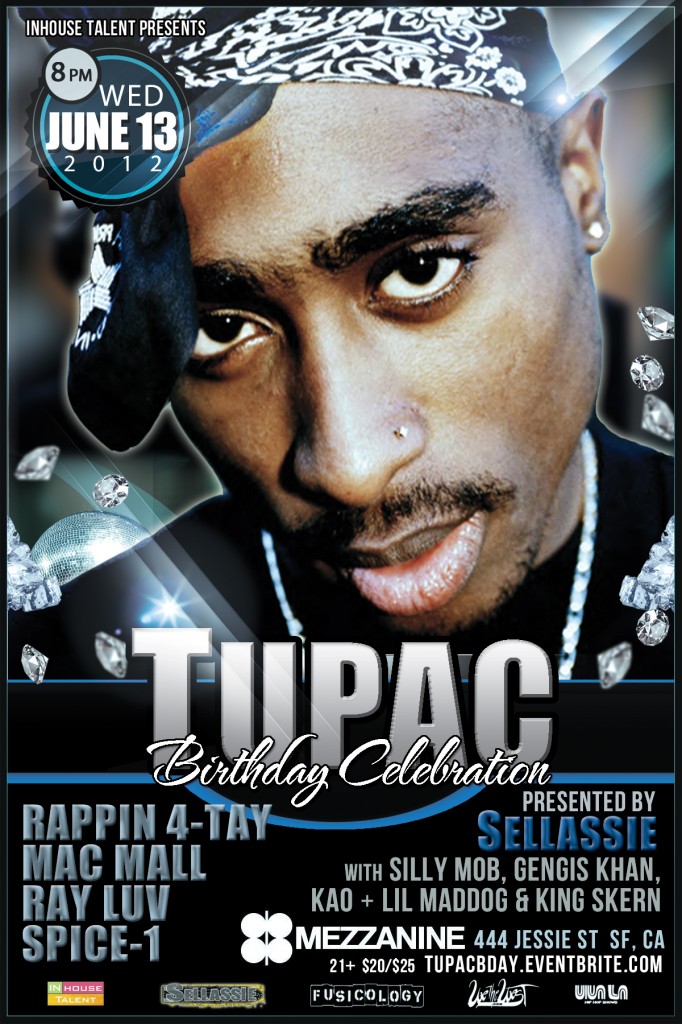 Sellassie and Inhouse Talent Present
TUPAC BIRTHDAY CELEBRATION
Hosted by SELLASSIE
Featuring: Rappin' 4Tay, Mac Mall, Ray Luv, Spice-1 and more TBA
WEDNESDAY JUNE 13, 2012
Mezzanine
444 Jesse St, San Francisco
8:00pm/$15 Limited, $20 presale, $25 door/21+
For info: www.sellassiefrisco.com
For Tickets: http://tupacbday.eventbrite.com
In honor of TUPAC AMARU SHAKUR's 41st Birthday, Sellassie and Inhouse Talent present a celebration in San Francisco for one of the world's brightest. Hosted by S.F. luminary Sellassie, the celebration will feature many special guests that made music with Tupac, including Rappin' 4Tay, Mac Mall, Ray Luv and Spice 1.
While Tupac was most famous for his rap career, he was also a gifted actor, poet and thoughtful while outspoken advocate for the poor and the overlooked in America. Tupac Amaru Shakur was an inspiration to millions. During his life, he produced an immense amount of artistic work, which included studio albums, major Hollywood feature films, and published works. He was most prolific in the music industry, selling over 75 million albums. 2Pac's unapologetic lyrics were relevant, important, and reflective of the hard lives led by many. His music earned attention and respect through a poetic style that embraced street vocabulary while being innovative. Today, 2Pac is still considered by many to be one of the biggest influences on modern hip-hop.
The Tupac Birthday Celebration promises to be a night to remember. Promotional and Media partners include Fusicology, WeTheWest.com, TrueSkool, Viva La Hip Hop, Zulu Nation and 408incmag.com. Exclusive Video footage of the event will be provided by WeTheWest.com, the Official home for all things West Coast!