Super Producer and MC – DROOP-E pays homage to HIS FATHER West Coast Legend E-40 by replicating 1991 Mr. Flamboyant Artwork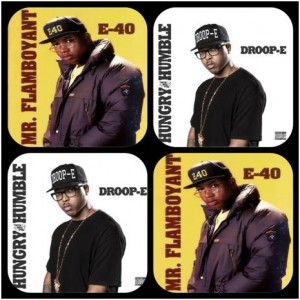 Tuesday, July 16th marks the day that Bay Area Hip-Hop artist and producer to the stars Droop-E, plans to make history serving up some delightful sounds and lyrical pleasures with his debut solo EP titled "Hungry and Humble." The influential project, with guest features from Kendrick Lamar, J-Stalin, Nite Jewel, Cousin Fik, R.O.D., Work Dirty, Kaveo, Choose Up Cheese and more, marks a milestone in the Bay Area-native's music career as a force to be reckoned with. Well known as the son of Hip-Hip icon E-40, Droop-E makes it look effortless as he exceeds expectations with this new montage of real music produced by himself and Bay Area legends DJ Toure and Rick Rock.
Adding to his arsenal for the new project, Droop-E will also drop a hot new video for the single "Ridin Solo," after dropping the project's first two singles "Rossi Wine" featuring Kendrick Lamar and "N The Traffic" featuring Nite Jewel and J-Stalin.