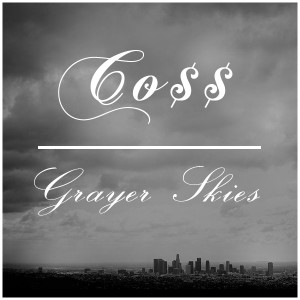 "Grayer Skies" is the first of two companion albums set to be released by criminally slept-on Leimert Park rapper Co$$. You might recall that he previously appeared on We The West for his contribution to C-Note's aptly titled track on police brutality, "Brutality". The double dollar sign-flaunting rapper fit right in on the track alongside fellow Cali spitters J Nolan and Mistah F.A.B.. But if Co$$ was a new name to you when you heard that track, you might be interested to know that he's been kicking around since (at least) early 2009.
Back then, Co$$ caught a notable buzz in the blogosphere and his hometown with memorable tracks like "Life" and "Elevation". He also had a strong crew running with him that featured Blu and Sene, both of whom have gone on to do their own thing while remaining close to one another. Blu, for example, recently teamed up with Virginia producer Nottz for the "Gods In The Spirit" EP, and it included verses from both artists. Not only that, but Blu and Co$$ are actually set to release an album as part of a bigger group, Black Hockey Players, but it's not clear when and if that will be released.

For now, the focus remains on Co$$'s latest project, "Grayer Skies", that contains beats primarily by bubbling producers Shag and Wil Madden. The latter actually supplies the hypnotizing and addictive instrumental for closing track "Could It Be" that features Blu, Sene, and Denmark Vessey. It's a hard-hitting posse cut when it comes to bravado and tough talk, something all of these guys could do for days without sounding bored and tired. That's especially true in regards to Sene, whose output lately has been far more melodic and bluesy as one half of Denitia and Sene. Here, however, he's kicking braggadocious raps proudly amongst some of his closest rapper pals.
But it's not all sh*t-talking and boasting on this 12-track release. In fact, that's apparent right from the jump, because "Pieces of a Man" and "Long Way Down" are two of Co$$'s sharpest pieces of reflection in recent memory. They deal with feelings of autobiographical introspection and relationships, respectively. And despite "Pieces of a Man" being such a personal piece for the MC, it's still relatable to anyone who has struggled with anything in their lives.
The fact that Co$$ hasn't broken through to a larger audience becomes puzzling as you listen to "Grayer Skies" from front to back. It's a shame that an indie label or a branch of a major hasn't reached out and tried their hand at further developing him as an artist. But maybe that's not what he wants at this point. He sounds comfortable doing this on his own and taking his time with his work.
That becomes apparent upon hearing another highlight from this project, "Aziatic Crack". Co$$ rhymes about just chillin' and even indulging in some snacks. You know, enjoying that leisure life without breaking a sweat. You can picture him with his feet up, laptop in hand, and gettings crumbs on his keyboard as he peruses sites like the Betfair Arcade. The online casino allows users to come and go as they please, indulging in gambling whenever they see fit, and getting that fix without heading to a smoke-filled casino. There's also a ton of pop culture-related skins for the slots, like Spider-Man and the Sopranos, so it doesn't have that stuffy feel you might associate with the coin-based machines.
If you've given "Grayer Skies" a listen and you are itching to hear more from the rapper once known as Cashus King, here's what we recommend. Listen to his "Instrument of Emotion" album next and then, if you want some free tunes from Co$$, snag his 2011 mixtape "Before I Awoke". You can stream "Grayer Skies" below and buy it on Bandcamp.